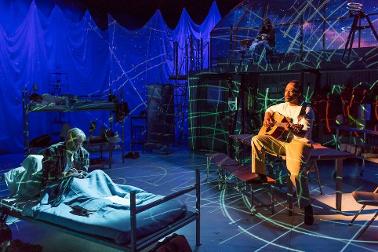 Magellanica, photo by Russell J. Young


"Dámaso Rodríguez'
s relentlessly paced staging builds suspense with the visceral engagement of a cinematic thriller"
-

Los Angeles

Times
Cuba Libre, Artists Repertory Theatre
Dámaso Rodríguez is a writer-producer-director creating new work across mediums. He has more than 100 directing, producing, and script development credits. In 2021, he concluded a nine-year tenure as Artistic Director of Artists Repertory Theatre, Portland, Oregon's longest-running professional theatre, which became a member of the League of Resident Theaters (LORT) under his leadership. Plays developed during his tenure were produced throughout the country. Accolades for projects developed at Artists Rep included the Dramatists Guild Foundation Award, the Edgerton New Play Award, NEA Funding, American Theatre Magazine's Most Produced Plays list, and coverage in the New Yorker and the New York Times. In 2021, the Oregon Media Production Association honored Artists Rep with the Creative Innovation Award for the company's pivot to digital mediums in response to the COVID-19 pandemic, including his production of the five-part podcast drama series, Magellanica. In the 2022-23 theatre season, three plays commissioned by Rodríguez will be produced around the country: The Thanksgiving Play by Larissa FastHorse (Broadway 2023), Wolf Play by Hansol Jung (Off-Broadway 2023), and American Fast by Kareem Fahmy (National New Play Network Rolling World Premiere 2023).
Rodríguez is a vice president of Arts Consulting Group, where he works with arts and culture organizations around the country. Clients include: Berkeley Rep, the Central Oregon Center for the Arts, the Guthrie Theatre, KEXP-FM, Long Wharf Theatre, Lookingglass Theatre, Missoula Children's Theatre, Ojai Playwrights Conference, Pegasus Theatre, Soho Rep, and TheatreWorks Silicon Valley.
Rodríguez began his career as an actor and improviser in Chicago, where he trained with Del Close at the Improv Olympic. He relocated to Los Angeles and acted in commercials and television before shifting his focus to directing via a year-long apprenticeship at the classical repertory theatre, A Noise Within. In 2001, he co-founded Furious Theatre, a company whose audacious aesthetic drew steady praise for its dozen-year run (L.A. Stage Magazine dubbed the company "one of the fastest rising ensembles in L.A. stage history" while LA Weekly called Furious one of "the best companies of the decade"). In 2007, he was appointed by Sheldon Epps as Associate Artistic Director of the legendary Pasadena Playhouse, where he directed main stage productions (The Heiress starring Richard Chamberlain, The Little Foxes starring Kelly McGillis, and Orson's Shadow starring Sharon Lawrence) while leading the play development program.

His acclaimed credits as a producer-director led to a freelance career at some of the top regional theaters in the U.S., including work at South Coast Repertory, Actors Theatre of Louisville, Oregon Shakespeare Festival, American Conservatory Theater, Seattle Rep, Portland Center Stage, Intiman Theatre, A Noise Within, The Playwrights' Center, New Dramatists, The New Harmony Project, and The Theatre at Boston Court, among others. While specializing in world premieres and early productions of provocative new plays or musicals, his body of work includes classics by Eugene O'Neill, Thornton Wilder, Noël Coward, William Shakespeare, J.M. Synge, Bernard Shaw, Lillian Hellman, and Tennessee Williams.
​​Rodríguez's scope of work as a director is exemplified by a steadily dynamic mix of complex projects such as the world premiere musical Cuba Libre, which he developed, produced, and directed at Artists Rep. The large-scale, bilingual, and box office record-breaking production was created in partnership with Tony-nominated producer Susan Dietz. It featured a cast of 21, including the exhilarating performance of three-time Grammy-nominated Cuban timba band, Tiempo Libre. Contrast his lush, original-period take on Romeo & Juliet in 2018, which ran for six months on the Oregon Shakespeare Festival's 1200-seat outdoor Elizabethan stage, with his 2016 deconstructionist approach to the young lovers' tragedy for L.A.'s A Noise Within where dumpsters served as both marriage altar and funeral sepulcher. Alongside work on these R&J's, he directed workshops leading to his production of the Humana Festival world premiere of We, the Invisibles by Susan Soon He Stanton. In her brilliantly complex mix of documentary and theatrical puzzle, a cast of seven portray the international melting pot of a New York City luxury hotel. These projects coincided with an American Conservatory Theatre commission to devise an auto-biographical, multi-disciplinary piece centered around Cuban composer/jazz pianist Alfredo Rodríguez and Cuban American star dancer of the San Francisco Ballet, Lorena Feijóo, with playwright/poet Caridad Svich.

His directing work in digital mediums includes the podcast dramas Magellanica, The Berlin Diaries, Today is My Birthday, The Vertical City, the Spanish-language "paper theatre" short film Jacinta (currently in post-production), and the low-budget feature film Pure Shock Value (Hollywood Fringe Festival "Centerpiece Film"), along with countless hours shadowing television directors on the sets of single and multi-camera shows.

Rodríguez is a recipient of the Los Angeles Drama Critics Circle Award, the BackStage Garland Award, the NAACP Theatre Award, and the Pasadena Arts Council's Gold Crown Award. His productions have been nominated for and won dozens of awards, including the LA Stage Alliance Ovation Award, LA Stage Scene Award, and the LA Weekly Theatre Award. He was honored as a Finalist for the Zelda Fichandler Award by the Stage Directors & Choreographers Foundation and was named a Knowledge Universe Rising Star by Portland Monthly. He is a member of the Stage Directors and Choreographers Society and has been honored to serve three times as a panelist for the National Endowment for the Arts, as a Theatre Communications Group Delegate to the Havana International Theatre Festival, and as a guest of Spain's Ministry of Culture for the Ibero-American Theatre Forum. In 2022, he was appointed to serve on the Directors Council of the Drama League.
Rodríguez is proud to be the Miami-born son of Cuban immigrants. He is developing multiple projects across mediums which strive to convey the nuanced, aching ironies and complexities of the immigrant experience, especially the Cuban Exile story.

He lives in Portland with his wife and frequent collaborator, writer-actor-producer Sara Hennessy, and their two children.
Select credits: Romeo and Juliet at the Oregon Shakespeare Festival, the World Premiere of We, the Invisibles by Susan Soon He Stanton for the Humana Festival of New American Plays, Kings by Sarah Burgess at South Coast Repertory, the developmental workshop of the live-looped musical The Undesirables by Hansol Jung and Brian Quijada for Seattle Rep; the World Premiere of Wolf Play by Hansol Jung, the World Premiere of Magellanica by E.M. Lewis, the World Premiere musical Cuba Libre by Carlos Lacámara featuring the 3-time Grammy nominated band Tiempo Libre, Portland premieres of La Ruta by Isaac Gómez, The Humans by Stephen Karam, Branden Jacobs-Jenkins' An Octoroon and Everybody, Nina Raine's Tribes and David Ives' The Liar, the Northwest premieres of Carlos Lacámara's Exiles and Nick Jones' Trevor, the west coast premieres of Dan LeFranc's The Big Meal, Charise Castro Smith's Feathers & Teeth, 1984 by George Orwell adapted by Duncan Macmillan & Robert Icke, and The Strange Undoing of Prudencia Hart by David Greig; the U.S. premiere of Dawn King's Foxfinder, The Skin of Our Teeth by Thornton Wilder, The Miracle Worker by William Gibson, The Playboy of the Western World by J.M. Synge, for Artists Rep; Ruth & Augustus Goetz' The Heiress (starring Richard Chamberlain), Lillian Hellman's The Little Foxes (starring Kelly McGillis), Austin Pendleton's Orson's Shadow (starring Sharon Lawrence) and the developmental workshops of Ellen Simon's Aunt Stossie's Coming for Five Days (starring Marsha Mason & Mary Steenburgen) and All There Is: Love Stories from StoryCorps (Co-Adapted with Scott Lowell from the book by Dave Isay) for the Pasadena Playhouse; the developmental workshop of Steven Drukman's The Prince of Atlantis for the Pacific Playwrights Festival at South Coast Repertory, Clifford Odets' Paradise Lost at Intiman Theatre; Shakespeare's Romeo and Juliet, Nöel Coward's Blithe Spirit, Tennessee Williams' The Eccentricities of a Nightingale, Eugene O'Neill's Desire Under the Elms, Bernard Shaw's The Doctor's Dilemma at A Noise Within. Furious Theatre credits include the Los Angeles premieres of Craig Wright's Grace, Peter Sinn Nachtrieb's Boom and Hunter Gatherers, Bruce Norris' The Pain and the Itch, Yussef El Guindi's Back of the Throat, Richard Bean's The God Botherers, and the world premieres of Alex Jones' Canned Peaches in Syrup, Matt Pelfrey's An Impending Rupture of the Belly and No Good Deed, and The Fair Maid of the West Parts I & II (Freely adapted from the plays by Thomas Heywood), among others. Audio: Magellanica by E.M. Lewis, The Berlin Diaries by Andrea Stolowitz, Today is My Birthday by Susan Soon He Stanton, The Vertical City by Diana Burbano. Film: Pure Shock Value by Matt Pelfrey; Jacinta by Blanca Forzán.